Measuring And Improving Welding Productivity Comes Down To Keeping Track Of The Details.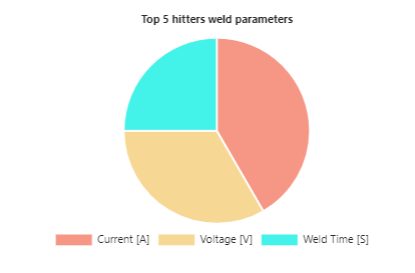 Manufacturing managers and supervisors often look blindly at welding operations without really understanding how to measure and assess productivity. A common phrase heard in the shop could be something along the lines of: "I see arc radiation flashing on and off, therefore, parts are getting welded."
The danger with that is that competitors both locally and globally are introducing lean manufacturing methods to all aspects of their operations, including welding. They're streamlining their processes and they're doing so by keeping a thumb on every aspect of production – and every weld that's being made.
Therefore, to remain competitive, companies must continually seek out ways to improve their welding quality and productivity. Too many companies, however, aren't looking at their welding processes at a granular level, which means that they can't maximize profit potential or, worse yet, they lose orders due to inefficient welding methods.
This approach doesn't just affect individual companies, though. To have a healthy economy, a good slice of the employment pie needs to be jobs where workers manufacture widgets. If we want to continue welding machinery, pressure vessels and other parts, we have to better analyze our operations under a manufacturing magnifying glass and then use world-class lean manufacturing methods.
If we ignore this challenge and do not introduce new and productive welding methods, more and more young people will be bumped into lower wage service sector jobs, or worse yet, the unemployment line. Incomes and tax revenue will be reduced and you, I and our neighbors will pay the price for not investing in welding productivity.
Factors for productivity
With that ominous introduction to welding productivity aside, let's take a look at how to measure and improve it. One way to go about it is by looking at a deposition rate productivity measurement method, which is preferred for heavy welding applications, including multi-pass welds (think pound weld per hour). But, for sheet metal, single pass or autogenous applications, travel speed is a better measuring stick.
This is also the first category for making welding productivity improvements – while welding, weld faster. A primary variable to focus on is wire feed speed for the many variations of continuous wire processes. Wire diameter is another factor, and it may not be as simple as the larger wire translating into faster welding. Some studies suggest that faster wire feed speeds of a smaller diameter wire may translate into higher deposition rates.
The second category to consider in welding productivity is the operating factor, which is also referred to as arc-on time. In doing time studies and using arc timers, surprising data emerged surrounding welders using manual or semiautomatic modes of welding. The data indicated that some welders were only welding for 20 to 35 percent of the time. This then becomes the single most important value in trying to improve welding productivity. Therefore, efforts should be made to determine realistic operating factors for various applications. While non-welding tasks performed by welders are certainly needed, including cleaning and heating, productivity gains in this category would focus on ways to minimize the 65 to 80 percent of non-welding tasks performed by welders that do not add value to the product.
The third category influencing welding productivity is in regard to how much weld metal is deposited and what endeavors are being taken to increase productivity by decreasing this amount. For deposition rate-based applications, the total weld weight needs to be calculated for each welding method to be used, while total weld lengths only need to be determined when using travel speed-based welding productivity measurement.
Reductions in weld metal deposited can be made with alternate weld joint designs or in considering fillet welds based on throat dimension instead of the more usual leg length because the throat is a better measurement of effective weld strength. Interesting to note is that some structural steel welding codes allow smaller fillet weld sizes when the submerged arc welding process is used. ISO welding symbols take that a step further by permitting engineers to specify fillet size by leg length or by throat dimension.
Another improvement in doing less welding is in minimizing the amount of over welding and rework welding. Some are surprised to hear that a specified 1/4-in. weld made oversize by 1/16 will take 56 percent more time. Simple geometric calculations prove this out.